Bluebird Botanicals Ant Extract Powder 20:1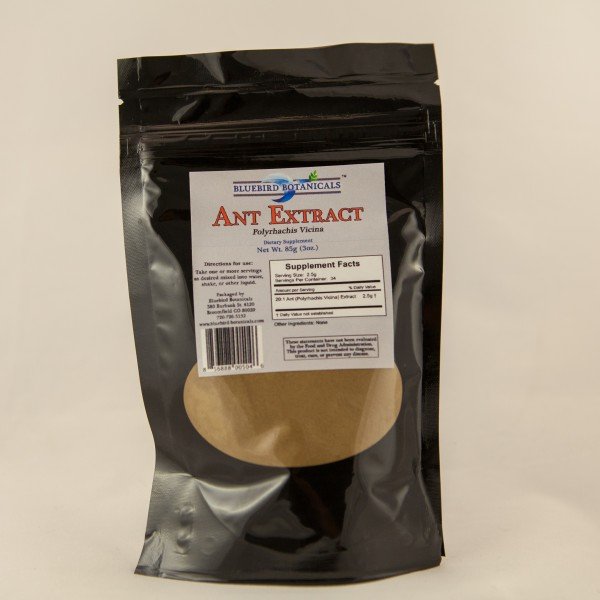 Only 1 available
Details
Shipping: USPS calculated - check
Sales Tax: Colorado: 2.9%
Condition: Brand new
Ant extract is a highly nutritive superfood and tonic, and the polyrhachis vicina ants we use have been consumed in China and other parts of Asia for thousands of years.† Treated like an herb in traditional Chinese medicine, polyrhachis ants are a multi spinous insect that according to some sources can lift 400 times and drag 1,000 times their own weight. They are among the longest living of all insects, sometimes living up to 30 years! Historically, these large Polyrhachis ants were available only as a delicacy to emperors and nobility, but now they are available to everyone in the world.

Being 42% protein, with the eight essential amino acids, a diverse vitamin source, and high in trace minerals (especially zinc), ant extract is a great supplementary addition to anyone's diet. Trace minerals are by definition minerals that are required by the human body in very small amounts. So when we say 'high in trace minerals,' we mean high in relation to the minute amounts required by the human body. In Chinese medicine Polyrhachis ants are thought to be generally anti-aging, sexually invigorating, adaptogenic, helpful with memory, plus more.†

Mountain ants, as they are commonly known, are believed to balance and strengthen the human immune system. Polyrhachis ant extract is used for energy but also to calm anxiety and help with sleep. Consuming ant extract is thought to strengthen and support DNA and RNA in human cells, which is one reason why they are deemed anti-aging and regenerative to tissue. Ant extract also contains ATP (Adenosine triphosphate), which is considered to be the base cellular energy source for humans. Polyrhachis ant extract is high in zinc, more so than most any other known organism, and zinc is a critical element in human sexual function which can be depleted relatively easily. Many symptoms that are associated with aging, such as memory loss, fatigue, generalized pain, mental fogginess, are believed to be alleviated by incorporating Polyrhachis ant extract regularly into one's diet.†

One aspect of ant extract use that is apparently being confirmed in Asian studies is its powerful adaptogenic properties, which are considered to be comparable to Ginseng and other herbs famous for their adaptogenic effects.†

Polyrhachis ant extract supposedly has different forms of Vitamin B (like B12) Vitamin D and Vitamin E. Vitamin B12 is very scarce in the plant kingdom and is mostly obtainable from animals, excluding some seaweeds.†

Over 20 trace minerals have been found in Polyrhachis ant extract, including magnesium, calcium, phosphorous, iron, selenium and zinc, but zinc is the one that is found in highest proportions. Zinc is easily depleted and is less available through our soil and crops each decade.†

A few rare aldehyde compounds have been found in ant extract, which theorized to be one of the major reasons why Polyrhachis ants are so abnormally strong in relation to their weight. These unique compounds include geranicaldehyde (C10H16O) and formalindehyde (HCHO, C10H14O) and have been demonstrated to have a stronger tonic effect than Ginseng, the king of tonic herbs in Chinese medicine.†

Considering all this, it is no surprise that ant extract from Polyrhachis ants is deemed a forever young herb and has been dubbed the 'herb of kings' (though they're not really an herb of course). Our Polyrhachis ants grown for the ant extract are ethically farmed and harvested in the high mountains of China, far away from polluted cities and soil. They are grown around Ginseng plants, supposedly further adding to the benefits of these ants. Enjoy the benefits of one of Earth's most powerful specimens.†

Recommended serving and method of ingestion for Ant Extract:
1/4 teaspoon- 1/2 tablespoon, twice a day.†
Place a little bit on tongue and just swallow like you would a pill, washing it down with water.
Mixing it with a smoothie works well.
Ant extract doesn't mix well with cool water, but it will do the job.
... [Full Description]